Kastor Egloff opens a small workshop in Rohrdorf, producing metal cooking utensils.
He opens a foundry and the company reaches a turnover of 150,000 Swiss francs. Wilhelm and Julius, Kastor's oldest sons, start working with their father. During 1876 Kastor Egloff purchases a deep drawing press – the first in Switzerland – and starts producing mess tins and other tin-plated household items. After Egloff's injury his son Julius takes over the company and in 1884 the company adopts the name Kastor Egloff & Sohn. Brothers Julius and August Egloff take the helm of the company. The number of employees rises to 55.
Later on, in 1894 brothers Adolf and Karl Reber invest 400,000 Swiss francs to acquire a shareholding in the company. The company name becomes Kastor Egloff & Cie. Hermann Weber, Karl Reber's brother-in-law, joins the company. When Karl Reber dies in 1902, Gottfried Birchmeier starts working at the company, which he is also a shareholder of. Some years later Kastor Egloff dies at the ag of 85. Susequent, the company is sold to Merkenr & Co. and it changes its name in Metallwarenfabrik Egloff & Cie.
After the generational handover, the Niederrohrdorf factory produces the first Bircher-Raffel: an apple grater invented by doctor and nutritionist Maximilian Bircher, the father of Muesli. It proves to be one of the era's most successful household items.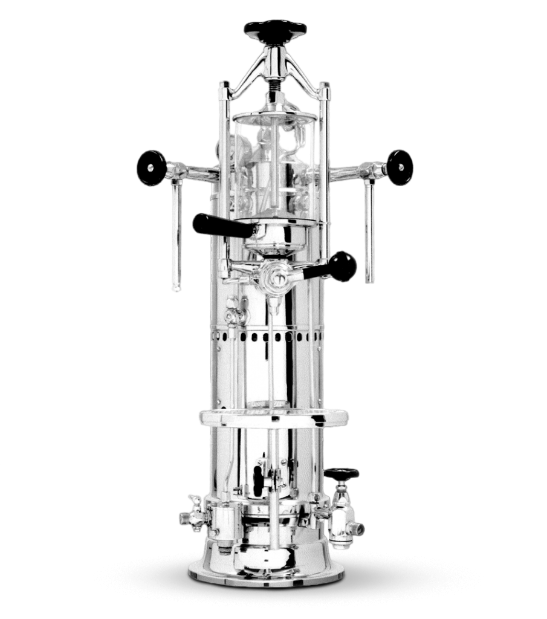 The Supra I, the first filter coffee machine produced by
Metallwarenfabrik Egloff & Cie, is introduced.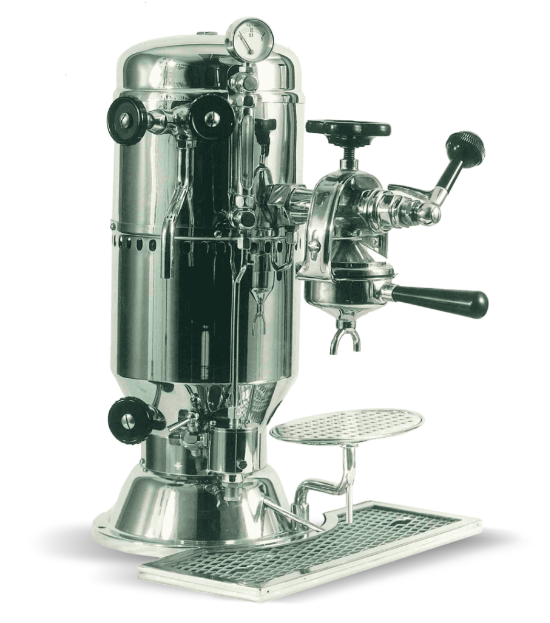 The Express Junior model is introduced. It has a gas-heated, 4-litre boiler and awand for steam and hot water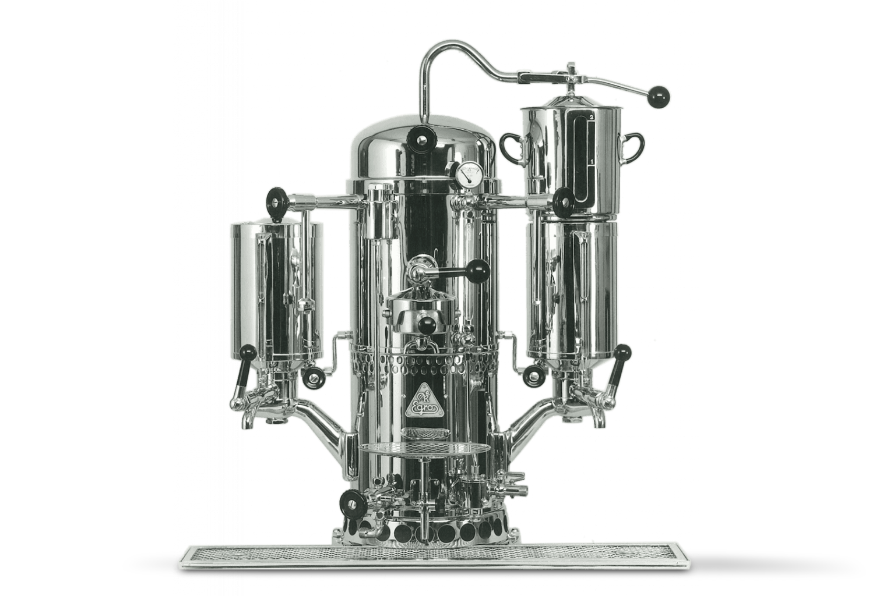 The Supra II enters production before World War Il begins.
After a complex period resulting from difficulties finding raw materials due to the global conflict, the company begins to grow again, achieving a turnover of 3.2 million Swiss francs and reaching 200 employees.
After World War II, the Swiss company creates different versions of the Express II (1947) and Supra III (1949) models.
Turnover reaches 7.2 million Swiss francs and the number of employees rises to 285.
Kastor Egloff was born on 28 November 1820 in Rohrdorf, in the Baden district of Switzerland. The sixth of ten children, Kastor had to start earning a living at a very young age. He worked as a field hand and, by a stroke of luck, he found housing at the 'Neuhof' educational institute in Birr, founded by educator and philosopher Johann Heinrich Pestalozzi. This was an industrial school with cutting-edge programmes that offered some of the most deprived children, such as Kastor, the opportunity to take classes and learn a trade.
In 1827, after the death of Pestalozzi, the young Kastor decided to remain in Birr. He raised cattle and, in a small workshop, repaired household appliances and cooking utensils, demonstrating an uncommon level of manual skill.
In 1836, with the help of the educator's widow, Mrs Pestalozzi, he moved to Zurich, where he apprenticed at a mechanics company for four years.
In 1849, Kastor returned to his parents' home in Rohrdorf, married Barbara Stieger, and opened a workshop. The young couple produced metal ladles and skimmers, working on a treadle lathe. Every two weeks, Kastor travelled to Zurich to sell his products at the market or to hardware shops.
WHERE THE COMPANY WAS BORN
In 1851, Wilhelm Egloff was born. He was the first of the couple's nine children. Around the same time, a small workshop with a water mill was built on the site where the company is still located to this day. Producing and selling products was hard work, especially in winter, and in 1857, it was only thanks to Barbara that Kastor did not shut up shop and go to work as a supervisor at Oederlin in Baden.
Continuing to invest in the family business was both a courageous and a far-sighted decision. In just a few years, the workforce increased to ten employees and new items were being produced: ladle lids, candlesticks, forks, and escutcheons for stove pipes made of tin and brass. In the 1860s, the company grew to 20 employees, and Kastor also began to produce oil lamps. The company continued to grow with help from Wilhelm and Julius, Kastor and Barbara's eldest sons.
They opened a foundry and in 1871, the company reached a turnover of 150,000 Swiss francs. In 1876, Kastor purchased a deep drawing press – the first in Switzerland – and started producing mess tins and other tin-plated household items.
"A YEAR OF SWEEPING CHANGES"
This was a tragic year: whilst working with the new press, Kastor lost a hand and just a few weeks later, suffered a stroke. His son Julius took over the company and, with the help of his brother August, went on to manage it until 1894, when Adolf and Karl Reber acquired a shareholding in the company, investing all their assets. This was a year of sweeping changes that would result in the Egloffs being distanced from the company. When Hermann Weber joined the company with the Reber brothers, Kastor and Julius Egloff became silent partners. Kastor Egloff died in 1905 at the age of 85. At the founder's death, the company was still many years away from starting to produce coffee machines. The Supra I, its first filter coffee machine, would only be introduced in 1934, a year after the death of Julius Egloff.
And it was only in 1979, after various evolutions and changes in ownership, that the company's name changed to Egro AG, composed of the first two letters of the founder's surname (Egloff) and town he was born in (Rohrdorf). A tribute to Kastor's entrepreneurial courage, which fully embodies the spirit of the company to this day.